Undergraduate Student – Department of Computer Science and Engineering, UConn
Story by Shruthi Nagaraj, Communications/Administration Coordinator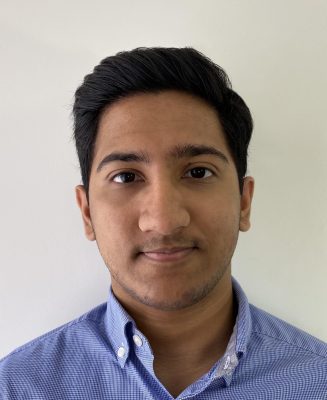 Amogh Garuda Dwajan is an honors student in the junior year pursuing his undergraduate degree, Bachelor of Science in Computer Science. Amogh always enjoyed programming since middle school, so pursuing a degree in Computer Science was an easy decision to make. Also, UConn was his first choice due to its great Engineering program with opportunities which can open doors to building a career in software engineering.
Amogh enjoys learning through experience, especially all his lab courses and some others like chemistry, computer engineering and coding which offer plenty of hands-on learning. Joining the UConn's Industrial Assessment Center (IAC) was his first step into branching out from his own stream and gaining knowledge and experience in the other fields of engineering. He has been with the IAC since spring of 2022 and has completed four on-site audit assessments. Amogh has also been actively involved with the website development work for the center.
The general engineering subjects like Math and other core ones from CSE have provided great support to his job at IAC, especially working with all the data. Being a student assessor at IAC has involved working with concepts from many branches of the field and focus on industrial processes, data analysis, and energy efficiency engineering, which he is keen on pursuing in the future. While at IAC, Amogh has been developing his abilities with research, planning and problem solving. He is also honing his investigative and analytical skills which are much required during the assessments and for the calculations and report making. He believes that these abilities and skills will be beneficial for the remainder of his undergraduate studies and even more so after graduation because programming is all about researching technologies and then problem solving to achieve the end goal.
Amogh hopes that the real-world experience that he has gained while working at IAC along with the other skills that he has developed will help him excel in an engineering role in the industry. He is grateful for the opportunity to be a part of the Department of Energy funded Southern New England Industrial Assessment Center at UConn.
Amogh has been on the Dean's list for three semesters so far– Fall of 2021, Spring of 2022, and Fall of 2022. He has also been named a 2021 New England Scholar, which is commendable.
We wish Amogh many more awards and recognitions as he prepares to step into a new semester in the Spring of 2023. He has also decided to continue working for the Industrial Assessment Center and contributing to the center's activities.